You're already familiar with most types of organic food found in the produce section. But there will be some items that may be new to you—like sprouted foods.
For a seed to sprout, it needs a lot of energy. As a result, sprouted foods are a powerhouse of vitamins, minerals and other nutrients. That energy and nutrition gets transferred to you when you eat sprouted foods. And not only are sprouted foods nutritious, they're packed with flavor. Sprouted foods are a great addition to salads, burritos and numerous other dishes.
Most of the food you eat should come from the produce section. In my book I explain how important it is for us to eat live, whole food. And live, whole food is found only in the produce section—not in the other areas of the store.
It's easier than you think to make delicious homemade meals. In my book I provide a shopping list and meal plans to make it easy for you to prepare food at home. But sometimes, we want or need the convenience of a quick meal. So, just like conventional grocery stores, health food stores have an abundance of boxed, canned and frozen or refrigerated foods. But there are several key differences between the types of packaged foods offered in conventional grocery stores and what's offered in health food stores.
For starters, health food stores usually don't offer packaged foods with synthetic chemical ingredients. That means no synthetic preservatives, no synthetic colors and no synthetic flavorings. These often toxic chemicals are found in most packaged products at conventional grocery stores. As I discuss in my book, they can derail the health and functioning of many people, especially children.
---
Live Naturally: Improve Your Health Today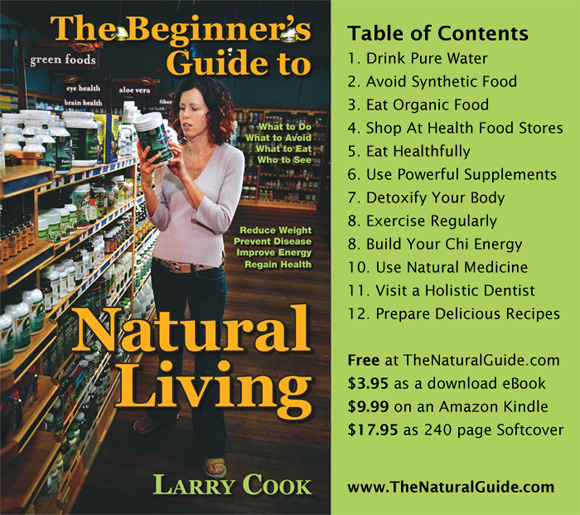 ---
Most packaged products found in natural food stores include only the ingredients made by nature. And their processing is kept to a minimum to retain as much nutritional value as possible. The result: You'll get better nutrition and more flavor from these all-natural products.
Another significant difference is that health food stores stock an abundance of products made from organically grown ingredients. These products are good for you, and our environment. And, they taste better, too.
Health food stores also carry a wide variety of packaged foods that are vegetarian or vegan. Vegetarian products are free of all animal products except for dairy and, in some cases, eggs. Vegan products are completely free of any animal ingredients. For example, Veganaise spread is made without eggs or dairy. Yet it's delicious—and much better for you than conventional mayonnaise. Vegetarian and vegan diets are becoming more and more popular because they have been found to be some of the healthiest diets of all.
The selection of packaged foods at a natural food store includes a wide variety of meat substitutes or alternatives. These products are delicious enough to satisfy any meat-eater. And they're perfect for people who would like to transition easily from a meat-based diet to a plant-based diet. There are also many varieties of protein-rich tofu, tempeh and other soy products. Tempeh is made with fermented soybeans. It's delicious – and mixes well into stir fries, burritos and other dishes. All of these products are easily cooked and flavored. And they work well as a meat substitute because of their texture. My next video will teach you how to prepare and cook these delicious meat alternatives.
Most health food stores have a bulk foods section. If you have a large family, or if you're on a budget, this is the perfect place to buy organic and save money. Here you'll find organic grains, nuts, breakfast cereals, beans, and plenty more.
You'll have three major advantages when you shop in the bulk section: First of all, you can buy as much or as little of any particular item as you want. Secondly, you can fill up your own container with the bulk products you want to buy – and reuse that container. By doing this you're saving the natural resources normally used in packaging. The third advantage to the bulk food section has to do with your wallet: Bulk food costs less than packaged food.
You'll also appreciate the wide variety of organic grains to choose from, in addition to beans, nuts and other types of raw ingredients. Grains are packed with nutrition, and if you vary your grains throughout the week you'll never have a boring meal. You'll also always have maximum nutrition – and more money in your pocket.
One area where you'll find a difference between conventional grocery stores and health food stores is in the health and beauty aids section. This section is really several sections in one.
Let's start with personal-care products. Products such as toothpaste, shampoo, deodorant, hand soap, moisturizer or cosmetics usually include mostly, or only, botanical ingredients, meaning plant-based ingredients. What you use on your body is absorbed into your body. And, many of the synthetic chemicals used in today's conventional products can be toxic to the body.
Plant-based ingredients are not only nontoxic, but they also have medicinal value. For example, many types of natural body care products use pure essential oils as one of their ingredients. Essential oils are plant-based and contain the therapeutic value of the plant from which it came. For example, pure Lavender oil—found in many products—is known to have a soothing and calming effect on the nerves, thereby relieving tension, depression, and nervous exhaustion in general.
Different manufacturers use different botanical ingredients. You can experiment to find the products that work best for you. Or see my personal recommendations that I include in my book.
Two other major categories found in the health and beauty section are supplements and natural healing remedies. Supplements are designed for continuous use, and natural healing remedies are used to help overcome certain conditions.
In a conventional grocery store you'll find an aisle of synthetic based drugs designed to manage symptoms. But in a health food store, you'll find natural remedies which use herbs or herbal formulations, flower essences, or homeopathic remedies; each type is designed to work with your body, instead of against it. Many of these remedies are formulated to help build your immune system and/or provide functional support to organs and other bodily systems. For example, the herb echinacea is a well-known immune booster and is to be taken at the first signs of a cold.
There are numerous resources at your disposal to help you learn and understand which of these remedies may be best for you based on your condition. In addition to several books written about the topic, there is often knowledgeable staff available to help guide you.
The health and beauty section also has a wide variety of supplements available: probiotics, enzymes, flax oil and green super foods, to name just a few. These supplements are usually consumed on a regular basis to help build nutritional levels and promote optimum functioning of the digestive system. In my book I give a full explanation of a variety of important supplements that are beneficial to most people.
While you're shopping for health and beauty aids, don't forget to check out the detoxification section. This section is a very important one. Here you'll find bentonite clay, psyllium husk powder, and herbal formulas designed to help rid your body of built up waste, including from your colon. For example, when decaying matter in the intestines accumulates, it compromises your ability to absorb nutrients. Most people find that removing this build-up improves their overall energy level. Colon cleansing brings your intestines back to optimal function. In my book, I devote an entire chapter to colon cleansing and detoxification because it's an important step towards vibrant health.
The health and beauty section also offers an assortment of books devoted to the natural living lifestyle. In addition to my book, I highly recommend John Robbins' well-written book, The Food Revolution, How your diet can help save your life and the world.
Natural food stores carry a wide assortment of nontoxic cleaning supplies. These range from dish soaps to laundry detergents, surface cleaners to toilet cleaners and even all-natural air fresheners. These products use botanical, plant-based ingredients instead of harsh chemicals, making them safe for you, your children and the environment. For example, I use Bio-Kleen laundry detergent and absolutely love the smell of my clothes straight from the washer. And, yes, these plant-based, nontoxic cleaners work as well as or even better than conventional cleaners.
For the sake of the environment and the future of the Earth, it's a really good idea to buy products made from recycled resources. And health food stores stock a wide variety of products made from recycled resources. In addition to using primarily recycled materials in the manufacturing process, these products are also made without the use of highly toxic chemicals. This means that they're safer for you, and they conserve our natural resources. I especially recommend that your babies use these products instead of their counterparts found in conventional grocery stores.
Depending upon which health food store you shop at, you may also have access to pre-made, packaged healthy meals that come from local vendors. It's better to grab one of these meals rather than going to a fast food joint.
The variety of departments and products that you've seen here is just the beginning: A natural food store will generally have anything that you'd expect to see in a conventional grocery store. And much more. But unlike conventional products, these goods will be produced without synthetic chemicals or extreme processing. They'll be free of the chemical stew that afflicts many conventional products. And you'll enjoy the high quality and variety of a health food store's inventory—including plenty of unique products that aren't sold in conventional stores.
The bottom line: You can do all your normal grocery shopping at a natural food store—because natural food stores have products equivalent in most ways to those at ordinary grocery stores. The difference: What you find at a health food store will be better for you, and your family.
The most important part of a natural food store is that you begin shopping there! Now that you understand the basic layout of a health food store, your next step is to start shopping at one. In my book, The Beginner's Guide to Natural Living, I offer additional information you may want to have on hand when you go to a health food store, including my personal shopping list and meal plans.
Be bold, go to your local health food store, and start shopping—You CAN do it.
Chapter 1: Drink Pure Water
Chapter 2: Avoid Synthetic and Artificial Food
Chapter 3: Eat Organic Food
Chapter 4: Shop at a Health Food Store
Chapter 5: Eat Healthfully
Chapter 6: Take Potent Supplements (part 1)
Chapter 6: Take Potent Supplements (part 2)
Chapter 7: Detoxify Your Body (Part 1)
Chapter 7: Detoxify Your Body (Part 2)
Chapter 8: Exercise Regularly
Chapter 9: Build Your Chi Energy
Chapter 10: Use Natural Medicine (part 1)
Chapter 10: Use Natural Medicine (part 2)
Chapter 11: Visit a Holistic Dentist

Appendix: My Health Food Shopping List (Part 1)
Appendix: My Health Food Shopping List (Part 2)