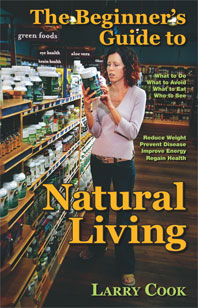 Buy for less at Amazon.com
240 Page Softcover Book
---
---
---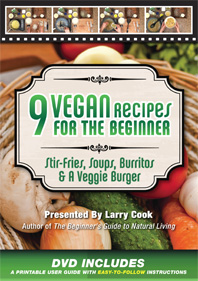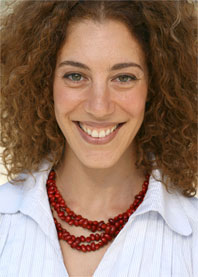 Dr. Angela Agrios, ND
My very talented Naturopathic Doctor
She treats a wide variety of conditions
Office & phone appointments available
Los Angeles, CA (Pacific Palisades)
Book Reviews

It's a well-known phenomenon in the natural foods industry that newcomers are shy about asking questions, unsure of where to begin and confused by the maze of contradictory information available to them. Many of these people come directly from their doctor's offices with new diagnoses of food allergies, bowel issues, even cancer or other life-threatening illness, and they enter our doors with trepidation, if not outright disbelief in "health food stores." For them, credible information is crucial. Enter Larry Cook and his Beginner's Guide to Natural Living. Where other health manuals fall short in over or underestimating their reader's knowledge of (and interest in) natural living, Larry offers readers a compelling introduction to the very idea of "natural living," avoiding common pitfalls like frightening statistics, unattainable goals or overly detailed descriptions of how to proceed.

Instead, readers are treated to simple, straightforward information (fully referenced in the back of the book) on all the major points of natural living, including why organically grown food is better, why to filter tap water, when supplements should be added, and even when and why to undertake a detoxification.




Along the way, readers are also introduced to adjunct ideas they may never have considered but which could play a role in either their illness or their recovery: holistic dentistry, internal acid-alkaline balance, genetically modified foods, even a short background on why natural therapies are effective and are therefore suppressed by the mainstream media and conventional medical conglomerate. I unreservedly recommend Larry Cook's Guide to Natural Living as the perfect starting place for anyone seeking to improve their health and quality of life.
Lori Lively
Director of Education for Marlene's Market & Deli
One of the most important steps you can take in the direction of abundant health is to carefully choose where you shop for food. It's a good idea, whenever possible, to shop at local farmer's markets, local natural food stores, or chains like Whole Foods and Wild Oats. And Larry Cook shows you how. As an introduction of many aspects of a natural lifestyle, his book makes it easy and fun to take care of yourself. Today's choices determine tomorrow's health.

John Robbins
Author of Diet For A New America and The Food Revolution
---
The Beginner's Guide to Natural Living is the best first step anyone can take on the road to better living. Larry Cook has made simple the plan for changing the bad habits you didn't even realize you had. If you are interested in a long healthy life the best place to start is reading this book.

Howard F. Lyman LL.D.
Author of Mad Cowboy
---
Live Naturally: Improve Your Health Today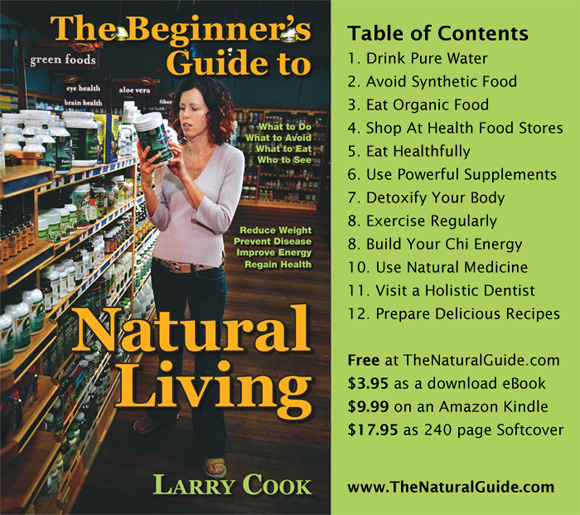 ---
---
Larry Cook is not intimidated by self-serving public relations blitzes from the food marketers, chemical companies, government bureaucracies, and agricultural industries that would mislead you about the food you're now eating and about its environmental impact. He tells you plainly and sincerely what works best for your total health—physically, mentally, and emotionally. As a producer of landmark and controversial videos, audiotapes, CD's and books on this topic, I know the kind of guts it takes for Larry to produce a book of this magnitude, frankness, and tell-it-like-it-is helpfulness. As a champion of using natural methods as a useful and valid component of addressing medical and psychiatric conditions, I wholeheartedly recommend this book to you.

John F. Taylor, Ph.D.
Author & Lecturer on childhood ADD/ADHD
www.ADD-Plus.com
---
Larry's knowledge is based on solid research and years of "walking his talk" – he lives a very healthy lifestyle, pursuing his career and personal life with a high level of energy and passion. He has the mind of an attorney—when he's interested in something he spares no effort to understand it thoroughly, and he passes this knowledge on to his readers in his book. You will find he anticipates your questions and leaves no stone unturned in his quest to help you understand that you can do it – and you should do it. If you are interested in improving your health, preventing or reversing degenerative disease, losing weight, or just learning more about natural living, get your hands on this book!
Buy the book today and have it delivered in a few days—your body will thank you!
Kelley Guiney
Editor