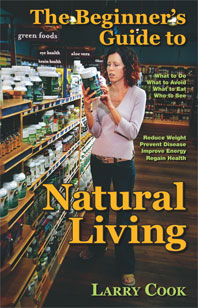 Buy for less at Amazon.com
240 Page Softcover Book
---
---
---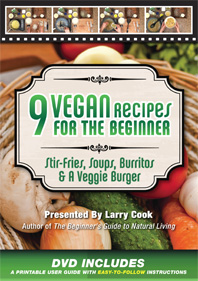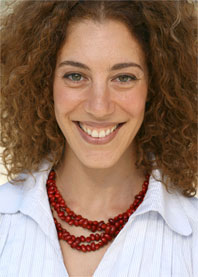 Dr. Angela Agrios, ND
My very talented Naturopathic Doctor
She treats a wide variety of conditions
Office & phone appointments available
Los Angeles, CA (Pacific Palisades)
Grocery Shopping
Shop at a Health Food Store

If you're serious about buying organic food and living a healthier lifestyle, you'll eventually want to switch from shopping at a conventional grocery store to shopping at a health food store (also known as a "natural food store"). The reason is simple: health food stores consciously stock products that are better for you and for the environment, and refuse to carry most products considered by natural living standards to be unhealthy. With over 8,000 such stores nationwide today, there is sure to be one near you—just look in the Yellow Pages under "Health Food Stores," consult GreenPeople's on-line database, or purchase the book Healthy Highways by David and Nikki Goldbeck to find over 1,900 natural food stores and health conscious restaurants.
Health Food Store Benefits
Although some conventional grocery stores are finally carrying organic produce and natural products in limited quantities, you'll pay a higher price for them there than at the health food store. Furthermore, the owners and management of conventional stores are often driven mainly by profits, while owners of health food stores are driven by both profits and a philosophy. The philosophy is that we should only use products that are healthy for us and for the environment. Every business must make a profit to stay in business, but not necessarily at the expense of our health or the environment! The success of large health food store chains such as Whole Foods have proven that a business can achieve success while remaining true to this philosophy. Health food stores carry not only a wide selection of organic produce, but also carry almost all the other types of products you would find at a conventional store—only these products are more healthy for us and the environment. Let's take a look at what's offered.
Natural Food
Not all the food carried in a health food store is organic, but virtually all of it, whether canned, frozen or boxed, is devoid of synthetic chemical additives such as preservatives, synthetic food dyes, artificial flavorings and the like. Often the products are minimally processed, so they don't require the addition of synthetic vitamins, either. Usually these products have a shorter shelf life, which is one reason why they cost a little more. Personally, I think they are more nutritious and taste much better than their conventional brand counterparts.
Most of the health food products are carefully chosen by store management to ensure that the store stocks only nutritious—or at least non-toxic—food products. And there is a huge variety of health food products to choose from, replacing virtually every type of product you would find in a conventional store. By buying natural and organic food at a natural food store, you minimize the amount of toxins you ingest. Better health is the long-term result.
---
Live Naturally: Improve Your Health Today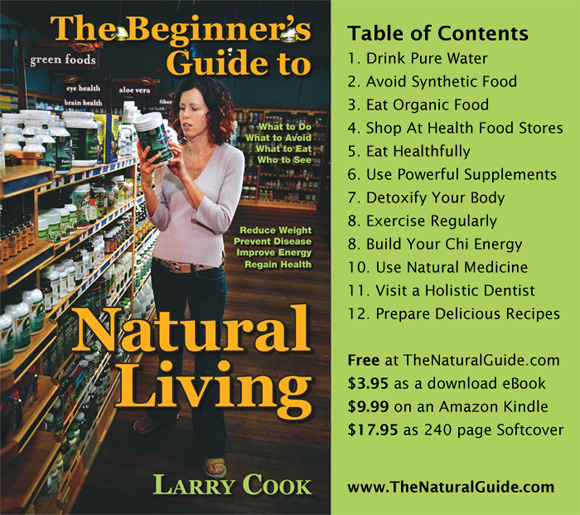 ---
You'll find a bulk food section at health food stores, often with a substantial organic selection. If you have a large family, buying bulk items such as organic grains, beans and nuts is a great way to save money, yet eat healthy. You'll find organic meat at most health food stores as well. Conventional meat is often loaded with toxic chemicals such as pesticides, artificial growth hormones, artificial food additives, tranquilizers, antibiotics or disease-causing organisms.
Health & Beauty Products
Another great advantage of shopping at a health food store is the wide variety of health and beauty products such as toothpaste, shampoo, make-up, skin creams, deodorant, bar soap, moisturizers and so on. What's different is that "natural" manufacturers use "botanical" (plant-based) ingredients in their products, instead of only synthetic chemical ingredients.
What we put on our skin is absorbed into the body. Many researchers believe that consistent application of synthetic chemicals on our skin can cause health problems, whereas botanical ingredients are unlikely to cause damage. For example, aluminum is found in many conventional deodorant products, yet aluminum has been linked to breast cancer and Alzheimer's disease. You can find aluminum-free beauty products at health food stores.
There is debate within the natural health and beauty product community as to whether or not any synthetic chemicals should be used in products labeled as "natural." Virtually all agree however, that the more botanics (plant derived) a product contains, the better it is for us. The reason is twofold: the product is less toxic than its synthetic counterpart, and the healing properties of the botanicals help rejuvenate, repair or improve our skin, hair, gums and teeth. Once you try these botanical beauty aids, you'll never go back to the synthetic chemical brands again.
Supplements & Healing Remedies
Health food stores carry a very wide variety of supplements (for regular use), and natural healing remedies (for ailments). Whereas in conventional grocery stores you'll find a vast array of chemically produced "medicines" designed to manage symptoms, in health food stores you'll find natural supplements and remedies formulated to work harmoniously with your body to help it rejuvenate and heal. Because there are an almost overwhelming number of products to choose from, Chapters 6 and 10 provide an overview of the essential supplements and remedies I recommend. For specific health concerns, consult one of the reference books listed in the Resources.
Non-Toxic Cleaning Products
Cleaning products include dish soaps, laundry detergents, bathroom cleaners and similar household cleaning products. Most conventional cleaning products rely on harsh, and usually toxic, petroleum-based chemicals to do their job. These conventional cleaning products are poisonous to humans and the environment, and they can cause serious damage to our health. On the other hand, natural cleaning products rely primarily on plant-based ingredients to do their job, which makes them virtually non-toxic to humans and the environment. Over a half million children under the age of 6 are poisoned every year in their homes. Sheer safety considerations are reason enough to use non-toxic cleaning supplies.
Maybe you're now asking the question, "Do they work?" My answer is, "absolutely!" Great care has been put into the development of these cleaning agents to ensure they work effectively in a wide variety of situations. On rare occasion a harsh chemical product may be required for a stubborn issue. However, using natural cleaning products is far more rewarding because the area doesn't stink of chemicals and synthetic perfumes after cleaning, but rather smells of citrus or other delightful plant or flower aromas. For example, I use Bi-O-Kleen laundry detergent, and I love the grapefruit fragrance of my freshly washed clothes.
Products Made From Recycled Resources
Most paper products available from conventional stores—paper plates, napkins, bathroom tissue, paper towels, sanitary pads and even diapers—are not only made from virgin resources, but have been bleached with chlorine, a source of dangerous toxins such as dioxin, furans and other organochlorines. On the other hand, health food stores stock natural paper products created from recycled resources that have been whitened without the use of highly toxic chlorine bleach. Yes, they cost slightly more, but they are better for you and help preserve the environment. Of particular note are diapers and feminine products that are in constant contact with the skin. Especially in these cases, using non-toxic, dioxin-free products from recycled resources is your best bet for comfort, reliability and health.

Deli "Fast Food" & Café
Many health food stores sport a refrigerated section stocked with a variety of pre-made sandwiches, wraps, rice dishes and other wholesome foods. Some even offer a full-blown deli and/or salad bar with a wide selection of hot menu items. When you're in a hurry, forget the fast food joint and instead go to your local natural food store to find a nutritious, and delicious, meal.
Classes & Workshops
Most of the larger health food stores offer a variety of cooking classes as well as seminars on health issues, supplements and alternative therapies. Sometimes well-known authors speak or give workshops. Take advantage of these classes. You'll benefit from the support of the instructors and your classmates. What a great way to make new friends and get a jump start into the natural living lifestyle!
Books & Resources
Health food stores carry books and resources devoted to the natural living lifestyle. Some even have computers set up so you can look up a specific ailment or a natural healing remedy for further study. Because the store is devoted to natural living, some of the best books available on the subject will be on their shelves. You can find books about alternative therapies for specific ailments, vegetarian cooking, activism, parenting, yoga, and more.
Knowledgeable Staff
You'll find that the health food store staff members want to help you make the transition into the natural living lifestyle. Staff members at health food stores usually have embraced the natural living lifestyle and are therefore friendly and enjoy helping their customers learn what they need to know on the path to natural living.
>>> Continue to Chapter 5: Healthy Eating