The best insomnia cure I know of is to adopt a natural living lifestyle, which means exercising on a regular basis, eating whole, organic foods every day, visiting a natural medicine doctor (such as a Naturopathic Doctor), detoxifying the body and using natural remedies. Doing yoga several times a week will also reduce stress.
I've tried quite a few natural remedies over the years, and last year I discovered Dream Boost, which is the best sleep aid I've tried so far (in terms of natural sleep aids—and I've tried quite a few!). Melatonin also works very well, but be careful not to take more than 2.5 MG per evening because more than that will disrupt your hormonal balance and also make you groggy in the morning. I have used valerian root in the past, and it works well. Magnesium greatly helps, and I use the brand Calm, which is absorbed quickly and designed to help create relaxation. On evenings where I am particularly stressed or I have racing thoughts, I'll take two Dream Boost, drink a cup of Calm and take one 2.5 MG melatonin. Works like a charm! I'm usually asleep within a half hour. :) There are also many sleep aid herbal teas at health food stores, and those help calm the energies so you can fall asleep more easily.
If you really want to cure your insomnia, I very highly recommend you visit a Naturopathic Doctor and get your hormone levels checked (usually through a saliva test). How and why you go to sleep is deeply connected to your hormones—stress or no stress—and stress will cause an imbalance in your hormone levels. A Naturopathic Doctor can assess hormone levels for you and then suggest herbal or natural remedies and other nutrients to help get those hormones back to where they ought to be so that you can rest and sleep better.
---
Live Naturally: Improve Your Health Today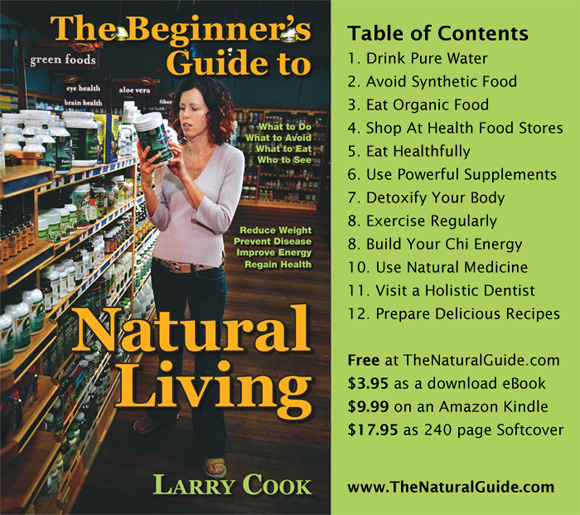 ---
So, if you want a natural insomnia cure that will truly help you overcome sleepless nights, or help you go to sleep faster, adopt a natural living lifestyle, eat whole organic foods every day, do yoga, exercise regularly, visit a Naturopathic Doctor, try Dream Boost, Calm and melatonin, try valerian root and herbal teas formulated for relaxation, and send me an email telling me how it works!
A Note About Drugs & Insomnia
Zoloft Side Effects: A side effect of Zoloft is insomnia, but the most serious side effects include cleft palate, and cleft lip in newborn children. Women who are pregnant should avoid taking Zoloft.
The Beginner's Guide to Natural Living
Abridged Version of The Beginner's Guide to Natural Living
Articles
Attention Deficit Disorder - Causes and Solutions
Whole Body Detoxification - One Woman's Journey
Cure an Ear Infection with Natural Living
Getting Better All The Time with Natural Living
How to Lose Weight
The Power & Politics of Birth
Home Birth - Interview with a Midwife
Natural Insomnia Cure
Vaccinations Cause Microscopic Tumors
Weight Loss Testimonial
Online Educational Videos
Naturopathic Doctor Interview Series
Larry's Healthy Recipes