Health Food Shopping List
Thirty Three Suggested Health Foods (part 1)

Health Food Shopping Introduction
Artificial food additives such as colorings, flavorings and preservatives are not put there for your benefit; but rather, the benefit of the manufacturer. Stripping food of its vital taste and nutrition and then using chemicals to trick your senses does not equate good nutrition. Health Foods however, are made without harmful processing or chemicals, and they're delicious and nutritious.

Organic Grains
Organic grains—such as brown rice, millet, spelt, rye, quinoa, wheat berries and others—are an excellent source of nutrition that can be used in most any meal. Organic grains come in a wide variety of delicious textures and are very affordable. For best digestion and nutrient absorption, simply soak overnight and then cook as directed.
Organic Beans & Legumes
Organic beans and legumes—such as kidney beans, pinto beans, black beans, white beans, lentils and others—are an excellent source of protein that can be used in most any meal. Organic beans and legumes come in a wide variety of delicious textures and are very affordable. For best digestion and nutrient absorption, simply soak first and then cook as directed.
Organic Produce
Eating whole, organic vegetables every single day is the most important step to take towards living a healthy diet. Only the live foods found in the produce section offer the full nutrition that Nature intended for optimum health. Whether you turn them into salads, use them in stir-frys or cook them in soups; fresh, organic vegetables are the ultimate health food.
San-J Tamari Sauce
San-J Tamari Sauce is a specialty soy sauce with a distinct salty flavor that can be used to enhance virtually any cooked dish, especially stir-frys and soups. San-J naturally brews their tamari sauce for up to six months, and they don't use MSG or artificial ingredients. Using tamari sauce in your cooking is probably the best step you can take to create delicious and healthy meals.
Bragg Liquid Aminos
Created from non-GMO soybeans, Bragg Liquid Aminos is a specialty seasoning that's packed with amino acids. Amino acids are the building blocks of life and are required for vitamins and minerals to function properly. This unique flavor enhancer is free of salt and artificial ingredients, and will enhance any meal when used during cooking, or when sprayed on a finished dish.
Real Salt Sea Salt
Real Salt Sea Salt is extracted from protected salt beds found in Utah and is prepared for use without additives, chemicals or heat processing. Unlike highly refined common table salt, this all-natural sea salt is packed with more than 50 trace minerals, including natural iodine. Use this flavorful, good-for-you sea salt without guilt or worry to enhance any meal.
---
Live Naturally: Improve Your Health Today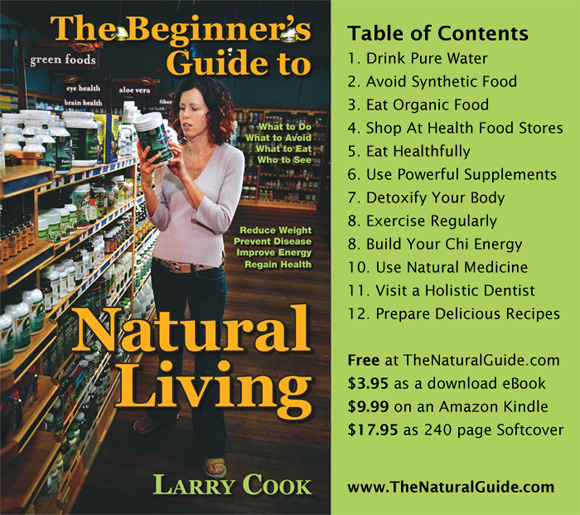 ---
Frontier Mexican Seasoning
Frontier Mexican Seasoning is a combination of spices—including chili peppers, cumin, garlic and paprika—that gives kick and flavor to any cooked meal. None of the spices are ever irradiated, and for safety reasons Frontier fumigates their spices with carbon dioxide instead of chemicals. Mexican spice seasoning makes health food cooking easy for anyone, especially amateurs.
Simply Organic Cumin
Simply Organic Cumin provides an earthy flavor that will enhance the taste of any cooked dish, especially when used in conjunction with tamari sauce. This organically grown seed is never irradiated, and for safety reasons Simply Organic fumigates their spices with carbon dioxide instead of chemicals. Cumin is one of the few spices that makes health food cooking easy for anyone, especially amateurs.
Barlean's Flax Oil
Barlean's Organic Flax Oil is an excellent source of essential omega-3 fatty acids, and omega-3 fatty acids are critical to proper cell function. Barlean's oils are cold-processed without the use of chemicals, and then sealed in black containers to ensure maximum nutrition and freshness. Because of its delicious nutty flavor, the best way to use this flax oil is to add it as a condiment on your food.
Spectrum Coconut Oil
Spectrum Coconut Oil is an excellent cooking oil because the medium chain fatty acids are very resistant to heat. This naturally processed oil is non-hydrogenated, making it trans fat free. Using coconut oil for cooking not only prevents consumption of trans fats produced when using conventional oils, but it also adds that unique and desirable coconut flavor to your cooking.
Napa Valley Olive Oil
Napa Valley Organic Olive Oil will deliver a delicious golden sweet flavor to most any dish. Using only certified organically grown olives, this oil is extracted through cold-process technology to ensure maximum nutrition. Use this unfiltered olive oil in or on your favorite recipes for a tasty flavor boost and its many nutritive properties.
Earth Balance Buttery Spread
Earth Balance Buttery Spread is the best tasting, most nutritious and good-for-you spread available. This dairy-free spread is made from a patented custom blend of organic expeller pressed oils, and since they're not hydrogenated, this product is completely free of trans fats. Replace your butter and margarine with this amazing alternative that will get you hooked the moment you try it.
Follow Your Heart Vegenaise
Follow Your Heart Vegenaise is the best tasting, all natural cholesterol-free spread available. Vegenaise is made without eggs, dairy, artificial ingredients or sweeteners, and because it's fresh, it will be found in the refrigerator section of your local health food store. Use this flavorful and healthy spread on sandwiches, in dips and dressings, and even in favorite recipes.
Miso Master Red Miso
Miso Master Red Miso, which is a fermented soybean paste used to flavor soups and other recipes, is one of the best tasting misos on the market. This all-natural Miso paste is made from organic whole soybeans, organic whole grains and sun-dried sea salt. When added to a broth of fresh ginger and almond butter, it makes a soup that's incredibly delicious.
Maine Coast Dulse Seaweed
Maine Coast Dulse Seaweed is packed with minerals, vitamins, enzymes, fiber, protein and even phytochemicals, which fight radiation poisoning. This organic and wild sea vegetable is checked for a wide range of contaminates before being packaged for consumption. Dulse seaweed offers a rich flavor and abundant nutrition good for most any soup or other cooked dish.
Chapter 1: Drink Pure Water
Chapter 2: Avoid Synthetic and Artificial Food
Chapter 3: Eat Organic Food
Chapter 4: Shop at a Health Food Store
Chapter 5: Eat Healthfully
Chapter 6: Take Potent Supplements (part 1)
Chapter 6: Take Potent Supplements (part 2)
Chapter 7: Detoxify Your Body (Part 1)
Chapter 7: Detoxify Your Body (Part 2)
Chapter 8: Exercise Regularly
Chapter 9: Build Your Chi Energy
Chapter 10: Use Natural Medicine (part 1)
Chapter 10: Use Natural Medicine (part 2)
Chapter 11: Visit a Holistic Dentist

Appendix: My Health Food Shopping List (Part 1)
Appendix: My Health Food Shopping List (Part 2)