The beans we're going to use are organic chili beans, and I use this particular brand and this particular organic chili bean all the time. It's very, very delicious. So go ahead and open it—just keep stirring it, making sure you get as many sides browned as possible. We're getting very close. Okay, now that most of it's browned, and there's just a little bit of browning left to go on the tofu, add your broccoli. And you can add just a little bit more oil to help the browning of the broccoli. You're going to want to do this for about one minute, maybe two.
If you look here, it's starting to just brown—just a slight bit more. By the way, it's the oil that makes it brown—if you didn't have oil in here, it wouldn't be browning. The oil transfers heat from the gas to the food. Macrobiotically speaking, it's also transferring energy, and that energy is grounding energy. You'll notice that the beans have a lot of liquid in them—that liquid actually has flavor in it. You're just going to pour the whole thing in, and stir it in.
Now here's the next step. This is the important step—this is what makes your food taste good; this is the secret. You're going to add tamari sauce, which is basically a soy sauce. Maybe three teaspoons, maybe four—add it to flavor, stir it in, turn your heat up so it simmers higher. See all that liquid in there? That's good, because that liquid is necessary to combine all the flavors. Now the other thing that you're going to do is add a spice. In this case, we're going to use cumin. Cumin is an earthy flavor—it's very flavorful, it's very good. This is simmering. Now I'm going to turn it on low now that it's bubbling—very low heat.
Now we're going to do the salad. Take a slice of your tomato. Okay, you can turn your heat off on your stir-fry. Add some grains, some tomato, some sprouted red lentils—sprouted food has a lot of energy and nutrition in it. Some sprouted mung beans—again, lots of energy, lots of nutrition, very flavorful.
---
Live Naturally: Improve Your Health Today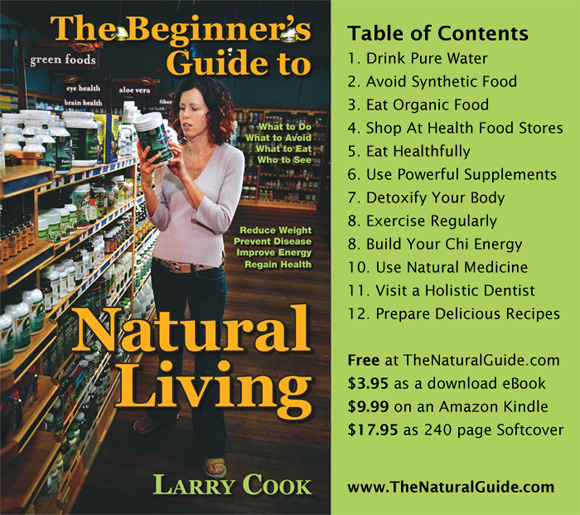 ---
Add your stir-fry. So finally, you're going to add some flax oil. Flax oil has a lot of omega-3 fatty acids and is very, very flavorful—I never take it by the spoon; I just add it to my food. Barlean's is an excellent brand to buy. And finally, Annie's Woodstock dressing—this is the bomb. You cannot go wrong with using Annie's Woodstock dressing, I guarantee it. Just add it to your salad.
Okay, you have a complete meal here: you have the salad portion, which has the live enzymes and helps with digestion; and you have the cooked portion over here, which is tofu and beans and broccoli. This provides grounding energy, very young energy so that you can get through your day without any problem. I highly recommend this meal. It's easy to make, it's healthy, and you'll love it.
Organic Herb Tofu & Broccoli Stir-Fry Recipe
Download printable version of this video recipe
Organic Whole Food Recipe
This healthy recipe is made from organic food and is part of a healthy diet. Use organic food for your primary ingredients because organically grown food is the best for you.
Organic Health Food Store Ingredients*
Coconut Oil
Firm, herbed Tofu
Westbrae Chili Beans
Broccoli
San-J Shoyu Sauce
Simply Organic Cumin
Salad Greens
Sprouted Lentils & Mung Beans
Tomato
Barlean's Flax Oil
Annie's Woodstock Dressing
*Always Buy Organic
Healthy Recipe Overview
Heat pan on medium heat. Add coconut oil, and then add diced tofu. Brown the organic tofu on all sides, stirring occasionally. Once the tofu is almost browned… Add the organic broccoli and fry for about a minute or so. Add more coconut oil if required to get the broccoli to brown (slightly). Then add the organic chili beans. Add three to four teaspoons of the organic shoyu sauce and a few shakes of cumin. Stir constantly, then simmer on low heat for a couple of minutes. Make salad & enjoy!
---
Larry's Delicious Organic Healthy Recipes
1) Amy's Texas Veggie Burger with Sprouts Recipe
2) BBQ Tempeh Corn Tortilla Burrito Recipe
3) Chili Bean Ginger Barley Miso Soup Recipe
4) Ginger Chickpea Miso Soup Recipe
5) Herb Tofu Bean & Broccoli Stir-Fry Recipe
6) Kale and Almond Butter Red Miso Soup Recipe
7) Mashed Potatoes and Shiitake Mushroom Gravy Recipe
8) Refried Bean & Shiitake Mushroom Burrito Recipe
9) Tempeh and Shiitake Mushroom Stir-Fry