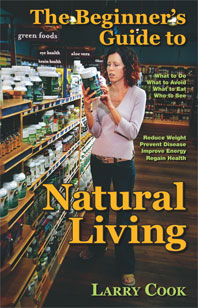 Buy for less at Amazon.com
240 Page Softcover Book
---
---
---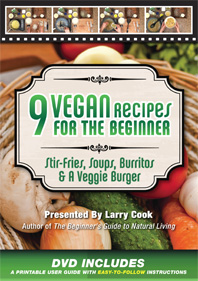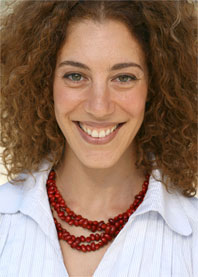 Dr. Angela Agrios, ND
My very talented Naturopathic Doctor
She treats a wide variety of conditions
Office & phone appointments available
Los Angeles, CA (Pacific Palisades)
Organic Healthy Recipe
Organic Ginger Chickpea Miso Soup Recipe
Recipe by Larry Cook

I'm going to show you how to make chickpea miso soup using Miso Masters chickpea miso. This is a sweet soup, and it works best as a side dish. So let's begin. Turn your heat on high. Use about a quarter pot worth of water. While the water's heating, go ahead and prepare your ginger. Once the ginger is peeled, go ahead and grate it using this side. Okay, pull your ginger out and add your ginger to the soup. Next, prepare your organic daikon root. Daikon root is a radish and it's also a blood-purifier. Once it's been peeled, go ahead and grate it and you'll see the band-aid here—watch that grater. It got me on the last one. While the water's still heating, go ahead and add dulse seaweed. Now, there are other seaweeds that people often add to their miso soup, but I like to use dulse seaweed.
I think it has a better flavor and it's easier to chew. So just add a big scoop—maybe not that big—about that much. So you want your water to boil for about a minute or so, so that the ginger distributes its flavor into the water. Once that happens, go ahead and add the daikon root, and then you're going to add the Miso Master miso paste. This miso paste takes time to dissolve, and use a little bit more than what you would use with the dark miso. Now what you want to do is—once it almost begins to boil, you want to turn the heat way low. While it's heating up because of the daikon root, go ahead and start stirring it in.
Notice I still have the heat on high—it's still heating it up, but I'm careful to make sure that it's not going to actually start boiling. Breaking up the miso against the wall is how you get it to stir in. You don't want to the soup to boil, so right about now—because it's just starting to—we're going to turn it on low, and we're going to keep stirring in the miso paste. Once your soup has a pleasantly strong flavor, it's time to serve. Then just add some Barlean's flax oil to it. This adds both flavor, as well as it gives you lots of omega-3 fatty acids. This is a delicious soup that makes a great side dish.
---
Live Naturally: Improve Your Health Today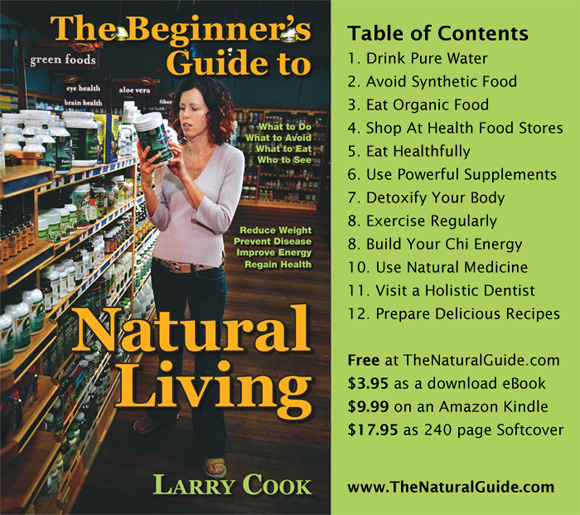 ---
Organic Ginger Chickpea Miso Soup Recipe
Download printable version of this video recipe
Organic Whole Food Recipe
This healthy recipe is made from organic food and is part of a healthy diet. Use organic food for your primary ingredients because organically grown food is the best for you.
Organic Health Food Store Ingredients*
Miso Master Chickpea Miso Paste
Ginger
Daikon Root
Dulse Seaweed
Barlean's Flax Oil
*Always Buy Organic
Healthy Recipe Overview
Bring 1/4 pot of water to a boil. Peel and grate the organic ginger, and then add to the water. Boil for 2 minutes. Peel and grate the organic daikon root. Reduce the heat to a simmer. Add dulse seaweed to the soup. Add the daikon root to the soup. Turn the heat down to low. Using several scoops, add the miso paste. Stir in the organic miso paste, which will take several minutes. Taste. Add more if there isn't enough flavor. Do not boil!
---
Larry's Delicious Organic Healthy Recipes
1) Amy's Texas Veggie Burger with Sprouts Recipe
2) BBQ Tempeh Corn Tortilla Burrito Recipe
3) Chili Bean Ginger Barley Miso Soup Recipe
4) Ginger Chickpea Miso Soup Recipe
5) Herb Tofu Bean & Broccoli Stir-Fry Recipe
6) Kale and Almond Butter Red Miso Soup Recipe
7) Mashed Potatoes and Shiitake Mushroom Gravy Recipe
8) Refried Bean & Shiitake Mushroom Burrito Recipe
9) Tempeh and Shiitake Mushroom Stir-Fry