So we're going to cut up a shitake mushroom. Shitake mushrooms have a lot of nutrition in them. Next comes the asparagus. With asparagus, you just snap it to prepare it, and then cut it up. Then check your tempeh, stirring occasionally. Now the oil is what makes the tempeh get brown, and we want it to be brown and it's used up a lot of oil, so we're going to add just a little bit more oil to it. This coconut oil doesn't produce trans fats, and we're not cooking it on super high heat, so it's perfectly good to do this. If your oil ever smokes, you need to turn down your pan.
Now if you'll take a look, this tempeh is getting quite brown—that's exactly what you want, you want nice brown tempeh. Now it's time to add the mushrooms and the asparagus, and we're going to add a little bit more coconut oil. Actually, just the mushrooms. So we're browning the mushrooms as well. Now we're going to add the asparagus. And we basically are browning the asparagus also.
Now we're going to add flavor to this and how we're going to do that is we're going to use tamari sauce, which is basically a soy sauce. Tamari sauce is a little bit higher quality than your regular soy sauce for a variety of reasons. So, before you add the tamari sauce, there's one important thing that you need to do. Okay, you'll notice everything is getting a little bit brown, exactly what we want. Everything's just a little bit brown here.
Now, before you add the tamari sauce, you have to add some water—very important you add water first. Add water, and then you add the tamari sauce—about two teaspoons to three teaspoons—and stir it in. it needs just a little bit more filtered water because some of it's going to evaporate. And then the other thing that you add is a spice—in this case we're going to add barbecue spice. Traditionally, for this one, you grind in; however, I like it a lot and I'm going to pour it in. now we want the flavors to blend and it's running out of water, so we're going to add just a little bit more water. Okay, now keep this on low.
---
Live Naturally: Improve Your Health Today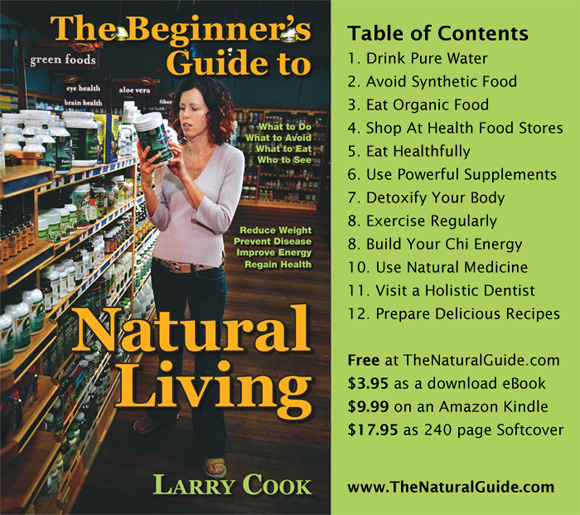 ---
Now we're going to make our salad. Making salad is easy—you just buy yourself some mixed greens at a health food store. Then you can add some lentils and some sprouted mung beans. When you use sprouted foods like this, you're eating high nutrition, high energy—very, very good for you. Add some cashews—these cashews have been soaked in Braggs amino acids—I bought them at the health food store that way.
Now we're just about ready. We're going to add our tempeh to the plate. The next step is to add some flax oil. Flax oil is really good for the omega-3 and omega-6 fatty acid content, and it helps with your cells. So I use it as a condiment. I just pour it on everything. It tastes really good—I never take it by the spoon. And finally, Annie's Woodstock dressing—this is an amazing dressing. I highly recommend it.
You simply add it to your salad and you are good to go. This meal has live enzymes on one side for healthy digestion, and on the other side, it's been cooked and it's very, very grounding Yang energy, which vegetarians often need, and you will find that this is a most excellent and delicious-tasting meal.
Organic Tempeh Shitake Mushroom Stir Fry Recipe
Download printable version of this video recipe
Organic Whole Food Recipe
This healthy recipe is made from organic food and is part of a healthy diet. Use organic food for your primary ingredients because organically grown food is the best for you.
Health Food Store Ingredients*
Coconut Oil
Lightlife Garden Veggie Tempeh
Shiitake Mushroom
Asparagus
Sprouted Red Lentils
Sprouted Mung Beans
Mixed Salad Greens
San-J Tamari Sauce
Simply Organic BBQ Spice
Barlean's Flax Oil
Annie's Woodstock Dressing
*Always Buy Organic
Healthy Recipe Overview
Rinse and cube the tempeh. Add to a pan on medium heat with coconut oil. Fry and stir until browned. Add Shiitake mushrooms and Asparagus and continue to fry until everything is browned, just a little. Add water first, then 2 or 3 teaspoons of tamari sauce, and then add BBQ spice. Stir another minute & serve.
---
Larry's Delicious Organic Healthy Recipes
1) Amy's Texas Veggie Burger with Sprouts Recipe
2) BBQ Tempeh Corn Tortilla Burrito Recipe
3) Chili Bean Ginger Barley Miso Soup Recipe
4) Ginger Chickpea Miso Soup Recipe
5) Herb Tofu Bean & Broccoli Stir-Fry Recipe
6) Kale and Almond Butter Red Miso Soup Recipe
7) Mashed Potatoes and Shiitake Mushroom Gravy Recipe
8) Refried Bean & Shiitake Mushroom Burrito Recipe
9) Tempeh and Shiitake Mushroom Stir-Fry